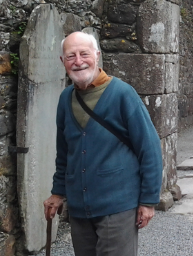 A man whom I loved, Denis Green, Marist priest, died on Wednesday night 6 October 2015. He will be buried today. He was the priest whose distinctive, lovely voice forms the backbone of my RTE Radio One Documentary, From Belief to Unbelief. He was with me when my father died in 1981. He helped me break the psychological umbilical cord with my mother. Aged 94, he was, to the end, the youngest man I have ever known. He was open. He was himself. He was engaging. He was genuinely interested in people and ideas and books. He was devout. He was, every inch of him, an actor. From the first moment he lectured us in novitiate back in 1980 he stood before us as one who might have leaped from a Shakespearean stage. He loved life. He loved people.
He was one of the worst singers known to human history, but that never stopped him singing! A memory: some 40 seminarians doubled over with uncontrollable laughter in the chapel at Mount St  Mary's, Milltown, as Denis attempted with abject ineptitude to sing the Eucharistic Prayer.
His infamy as a singer was very closely matched by his reputation as a driver. On one occasion after I was astonished still to be alive I felt something needed to be said.
'Did anyone ever tell you you're a good driver, Denis?'
'No,' he replied, 'I don't believe anyone ever did.'
'Think about it.'
And he was the kind of guy you could say something like that to – i.e., be entirely honest with – and nothing would harm the relationship.
He told me years ago that he wanted 'How Great Thou Art' sung at his funeral. Yesterday, before his coffin was brought from the chapel at Mount St Mary's – the same chapel in which his gorgeous voice reverberates in my documentary – I told the congregation gathered there that Denis had told me that he wanted it sung at his funeral. And I, atheist and Humanist celebrant, appealed to those present to sing it with gusto and I led the singing and everyone joined in and we did him proud. The place came alive again, Denis's final farewell to Mount St Mary's.
Born on 11 June, 1921, in Clontarf, Dublin, he was a pupil at Catholic University School (CUS), Leeson Street, and he worked there as a chaplain until very recently. CUS is closed today as a mark of respect to him. He entered the Marist novitiate in 1940 and was ordained on 23 March 1947. In 1952 he was offered a place at the Sorbonne but he accepted a place in Cambridge! He worked in England from 1955 to 1975, as a teacher, headmaster and as Provincial of the then English Province of the Society of Mary (Marist Fathers). He came back to Ireland in 1975 and he was one of four priests in charge of us in my novitiate 1980-1981. He also taught at Chanel College, Coolock;  was associated with the Glencree Centre for Reconciliation in Wicklow; with St Killian's German School, Dublin; and he was for a while Secretary General of the Marist Fathers in Rome.
Denis, I loved you. You were a human being! You lived a good life! You were open and thoughtful, creative and caring, affectionate and loving. Goodbye my friend.